EHS WHITEPAPERS
To help ensure compliance with ever-evolving DOT, EPA and OSHA regulations, our in-house compliance experts regularly compose free whitepapers brimming with real-world applications. See what's new below.
First Aid Obligations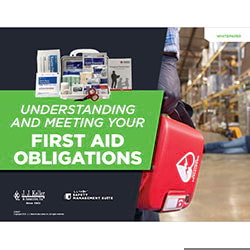 OSHA requires employers to provide a safe workplace that is reasonably free of hazards. Still, accidents happen, so employers must also provide access to emergency medical care and appropriate first aid supplies.
However, the regulations can sometimes raise more questions than they answer. So, where can you get the clarification you need to fully understand and meet your first aid obligations? This easy-to-read whitepaper is the answer you're looking for!
It covers:
Consultation and responders
Available supplies
Training requirements
Bloodborne pathogens
Keeping your program current
And more!
DOWNLOAD WHITEPAPER
OSHA's Written HazCom Program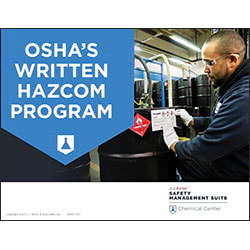 All workplaces where workers are exposed to hazardous chemicals are required by the Hazard Communication Standard (HCS) to create a written hazard communication program to implement the standard's requirements.
If implemented properly, hazard communication will result in a decrease in illnesses and injuries caused by chemicals in the workplace. It also helps with effective management of chemicals in the workplace, resulting in increased productivity, decreased workers' compensation costs, and other employer benefits.
This whitepaper provides guidance on what to do to comply with the HazCom standard and covers these important topics:
Partial exemptions
Responsible staff
Chemical inventory
Employee access
Labels and other forms of warning
Non-routine tasks/unlabeled pipes
Safety Data Sheets (SDS)
Multi-employer worksites
Employee training
DOWNLOAD WHITEPAPER
Open For Business: Operating Safely After The Coronavirus Lockdown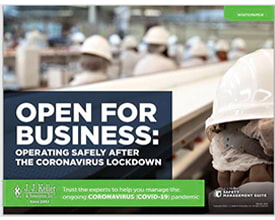 As lockdowns start to relax and businesses begin returning to normal operations, employers need to provide for the safety of their workers and customers. Every workplace should develop and implement a plan, then continually review and modify that plan as new information becomes available. This clear, easy-to-understand whitepaper covers the key elements of an effective reopening plan.
DOWNLOAD WHITEPAPER
OSHA INJURY AND ILLNESS RECORDKEEPING AND REPORTING RELATED TO COVID-19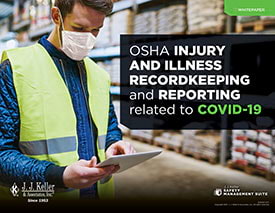 The COVID-19 pandemic is changing the way we do business in this country. Workers who are able to are now working from home, and workers who are in construction or manufacturing are practicing social distancing on the job. Because the crisis is unprecedented, OSHA is releasing guidance in short bursts. This whitepaper examines what OSHA has to say about the recordability of COVID-19 in the workplace along with the agency's injury and illness recordkeeping and reporting regulations in 29 CFR Part 1904.
DOWNLOAD WHITEPAPER
CORONAVIRUS AND YOUR WORKPLACE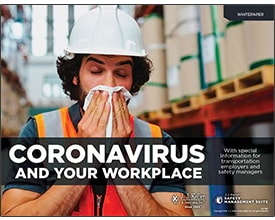 The outbreak of the coronavirus disease 2019 (COVID-19) presents new challenges in the workplace. Businesses can get ready to respond to the crisis by creating a multi-faceted plan and by being able to adapt to an ever-changing situation in a way that supports the entire organization.
Written by J. J. Keller Editor Terri Dougherty, the free whitepaper Coronavirus and Your Workplace covers areas your business needs to consider to be prepared for the coronavirus crisis:
Responding to the outbreak
Communicating with your workforce
Consideration of employee rights
OSHA compliance responsibilities
Support for business operations
A flexible and timely response


DOWNLOAD WHITEPAPER
TOP EHS PRACTICES: KEY COMPONENTS OF A FULL-SERVICE SAFETY PROGRAM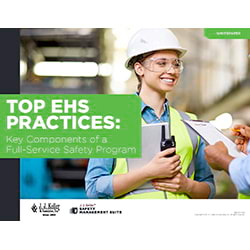 Understanding OSHA regulations is important, and equally important is going beyond the minimum requirements to ensure a safe workplace. The Top EHS Practices whitepaper reviews regulations and best practices for the following areas:
Training
Written Safety Plans
Chemical Management
Incident Management
Audits

Learn more about going above and beyond in your safety program and how the J. J. Keller® SAFETY MANAGEMENT SUITE can help you manage all aspects of your safety program.

DOWNLOAD WHITEPAPER
WRITTEN SAFETY PLANS: YOUR TOP QUESTIONS ANSWERED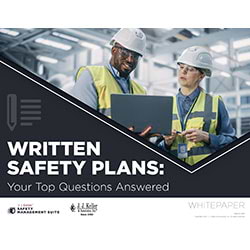 OSHA requires written safety plans for a wide range of general industry and construction standards.
This free whitepaper provides answers to the most frequently asked questions regarding written safety plans to help you understand the requirements and how they apply to your business.
Learn how the J. J. Keller® SAFETY MANAGEMENT SUITE can help you comply.

DOWNLOAD WHITEPAPER
OSHA INSPECTIONS: ARE YOU PREPARED?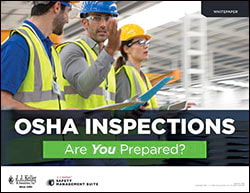 On average, OSHA conducts about 35,000 inspections each year. Would your workplace stand up to inspection?
This FREE whitepaper walks you through the processes of inspection, citation and preparation to make sure you are truly prepared.

DOWNLOAD WHITEPAPER
OSHA's Top 10 Violations: How does your compliance program stack up?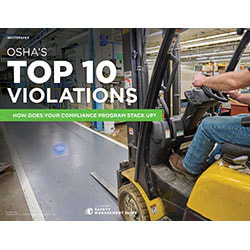 When it comes to OSHA compliance, you can learn a lot by reviewing the most frequent violations. This free whitepaper takes a close look at the Top 10 most frequently cited standards across all industries to help you be prepared and address compliance challenges at your organization.
Learn how the J. J. Keller® SAFETY MANAGEMENT SUITE can help you comply with OSHA requirements.

DOWNLOAD WHITEPAPER