CORONAVIRUS (COVID-19)
The outbreak of coronavirus disease 2019 (COVID-19) presents new challenges in the workplace as employers strive to keep businesses running, comply with regulations, and support the health and well-being of their workforce. J. J. Keller® SAFETY MANAGEMENT SUITE addresses these issues and helps ensure you are ready to respond.
How We can help
+120 safety plan templates covering a broad range of topics, including pandemic flu preparation and response
Workplace pandemic planning checklist
COVID-19 written action plan
Full-color posters to help keep safety top-of-mind with employees
Round-the-clock access to expert-curated content spanning hundreds of compliance topics, including pandemic flu preparation and response, injury and illness recordkeeping and reporting, and more
Keeping you informed on the most recent news articles relating to COVID-19
Post-pandemic guidance as you welcome employees back to work
Direct access to our trusted team of in-house experts, readily available to answer questions
Coronavirus posting act FAQ for employers
Helpful resources on working remote, managing a remote workers, and safety of personnel during a facility shut down
FREE NEWS ARTICLES
POSTED 11/5/21

OSHA'S NEW VACCINATION REQUIREMENT FOR EMPLOYERS WITH 100 OR MORE EMPLOYEES
On November 4, 2021, OSHA issued a COVID-19 Vaccination and Testing Emergency Temporary Standard (ETS) to require employers with 100 or more employees (company-wide) to ensure workers are vaccinated by January 4, 2022, or, if unvaccinated, undergo weekly testing and wear face coverings while indoors.
POSTED 02/15/21

OSHA MAY SOON ADOPT A COVID-19 REGULATION
OSHA recently issued stronger guidance on COVID-19 and may soon issue a regulation. On January 29, OSHA delivered a webcast which said the agency expects to issue an emergency temporary standard (ETS) on COVID-19 as early as March 15, 2021. The ETS could then be made permanent.
POSTED 04/27/20

START EVALUATING ACTIONS FOR A COVID-19 POST-RESPONSE EVALUATION
Employers have taken extraordinary steps to deal with the COVID-19 pandemic. Whatever role you play in these efforts as a safety manager, remember to continually evaluate actions you and your company are taking.
POSTED 04/06/20

KEEPING ESSENTIAL WORKERS SAFE DURING A SHUTDOWN
Many businesses have shut down partially or entirely during the COVID-19 pandemic, but many employers need to keep some essential personnel on site. These workers may face unique challenges during a shutdown.
POSTED 03/30/20

SELECTING ALTERNATIVE GLOVES DURING A PPE SHORTAGE
With the coronavirus (COVID-19) outbreak, gloves and other PPE may be in short supply for some time, so be prepared to identify feasible alternatives if your usual PPE is not available.
POSTED 02/24/20

CORONAVIRUS CONCERNS: RECORDABLE CASES AND RESPIRATORS
If an employee contracts the coronavirus from a coworker or workplace exposure, OSHA has said that would be a recordable case on the 300 Log. To protect themselves or their coworkers, some employees might request to wear dust masks or surgical masks.
FREE WHITEPAPERS
Mandated COVID-19 Vaccines and Testing: 10 Things Employers Need to Know
Is your business ready for a potential OSHA mandate regarding COVID-19 vaccination and testing for employees? President Biden recently announced that private employers with 100 or more employees will need to ensure that employees are either vaccinated or tested for COVID-19 weekly before coming to work.
Return to Work: Are you prepared when COVID-19 tags along?
Whether you have employees who are subject to a quarantine or isolation order, employees who are reluctant to return to work, or employees who tested positive or have related symptoms, you need to respond appropriately to keep your workforce safe, while maintaining productivity. This detailed whitepaper will help you know what to do if COVID-19 tags along to work!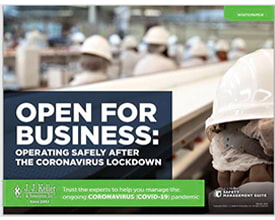 Open For Business: Operating Safely After The Coronavirus Lockdown
As lockdowns start to relax and businesses begin returning to normal operations, employers need to provide for the safety of their workers and customers. Every workplace should develop and implement a plan, then continually review and modify that plan as new information becomes available. This clear, easy-to-understand whitepaper covers the key elements of an effective reopening plan.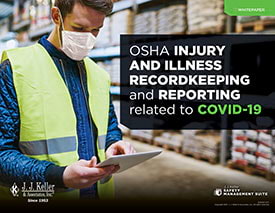 OSHA Injury and Illness Recordkeeping and Reporting Related to COVID‑19
The COVID-19 pandemic is changing the way we do business in this country. This whitepaper examines what OSHA has to say about the recordability of COVID-19 in the workplace along with the agency's injury and illness recordkeeping and reporting regulations in 29 CFR Part 1904.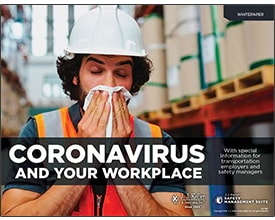 CORONAVIRUS AND YOUR WORKPLACE
The outbreak of the coronavirus disease 2019 (COVID-19) presents new challenges in the workplace. Businesses can get ready to respond to the crisis by creating a multi-faceted plan and by being able to adapt to an ever-changing situation in a way that supports the entire organization.
PREPARING FOR PANDEMICS: WHAT BUSINESSESS NEED TO KNOW
The COVID-19 pandemic has taught us to expect the unexpected. But, to do that, requires a concerted effort by many employees in a company to create a strong, yet flexible plan. This detailed whitepaper explains the key elements of an effective pandemic plan.
FREE WEBCASTS
RECORDED 04/02/20

FAMILES FIRST CORONAVIRUS RESPONSE ACT (FFCRA)
On March 18, 2020, the federal Families First Coronavirus Response Act (FFCRA) was signed into law in response to a growing outbreak of the coronavirus. As a result of the outbreak, employers were faced with unprecedented changes, in part because some employees could not go into work due to parenting demands, quarantine or stay-at-home orders, or as a preventive measure regarding the disease.
RECORDED 03/27/20

CORONAVIRUS POSTING COMPLIANCE: NEW REQUIREMENTS AND BEST PRACTICES FOR REMOTE EMPLOYEES
The Families First Coronavirus Response Act calls for employers to display an Emergency Paid Sick Leave Act posting. In this webcast, we'll answer a number of frequently asked questions relating to the new poster and cover the posting details included in the act.
RECORDED 03/19/20

COVID-19: AN EMPLOYER'S RESPONSE
What would you do if a worker started exhibiting symptoms of acute respiratory illness while at work? When should they be allowed to return to work? May you require employees to stay home? Do you have to pay them? This webcast will look at how the various laws apply, as well as considerations beyond the law.